Last updated on December 15th, 2022
There are many different tents on the market that can accommodate four people, so it's difficult to say which one is the "best" without knowing more about your specific needs and preferences. Some factors to consider when choosing a tent include the seasonality (3-season vs. 4-season), the size and weight of the tent, the materials it's made of, and its price. Additionally, you may want to think about the specific features that are important to you, such as the number of doors, ventilation, and the type of poles. I would recommend doing some research and reading reviews to find a tent that is well-suited for your needs.
Our top pick for the best four-person tent is the REI Co-op Kingdom 4 Tent. We also recommend this one if you are in a hurry and don't have time to research multiple products.
Best 4 Person Tent : Top 10 Recommended Products
REI Co-op Kingdom 4 Tent
The REI Co-op Kingdom 4 Tent is a spacious and large tent suitable for 4 person camping. This tent has a vertical wall and rectangular floor with about 70 square feet and a peak height of 75 inches (6.25 feet). So this tent provides you great liveability, and moveability inside the tent is also not an issue for the tallest person in your group.
This 4 person tent is very easy to set up due to its color-coded system. The poles, rainfly, tent, and footprint are color-coded for easy setup. This tent has two large doors with four zipper sliders, which means the door can be half-opened and half-closed. REI Kingdom 4 tent also has many pockets to store your items. This tent also has gotten a suspension door to divide the tent into two parts. The other par can be used as a porch area.
One of the amazing features of this tent is that the vestibule can be used for storing your gear, backpacks, and other stuff like a cooler and generator outside the main tent area. This tent comes with a carry bag to store the tent and carry it easily wherever you want. The tent comes with 11 stakes, 4 guylines, and a pole repair tube. So the REI Kingdom 4 tent is the best choice for car camping for small families and a group of four persons.
Pros
With vertical walls and rectangular floor this tent provides great space
Two large doors with zippers gives easy entry and exit
Color coded fly, tent, poles, footprint for easy setup
Mesh panelling for great ventilation
Cons
May leak in heavy rain
More expensive for car campers
Coleman SunDome 4 Person Tent
Coleman Sundome's four-person tent is easy to pitch and set up, ideal for weekend breaks and touring camping. The tent provides comfortable accommodation for small families or groups on the campsite, combining a generously proportioned sleeping area with a peaked porch.
Its portable construction features durable yet lightweight fiberglass poles that ensure an optimum balance of strength and stability with a low weight. The tent's proven dome structure combined with fully adjustable and reflective guy ropes also provides it stand firm in windy conditions.
One's set up Sundome tent offers a generous head height of 4 feet 11 inches for increased comfort. A large mesh window with an adjustable cover on the back provides excellent airflow throughout the tent and gives you a view of your surroundings. The large D-shaped door with mesh ensures easy entry and exit. While the peak over the door creates a sheltered area when entering the tent in a shower. The convenient mat offers an ideal space for kicking off shoes and boots.
The tent's durable construction features large mesh panels for enhanced air circulation and a more comfortable interior temperature. For extra protection from heavy due or unexpected rain showers, the syndrome incorporates a protective flysheet with a 600-millimeter hydrostatic head. The tough and durable polyethylene groundsheet has welded seams to ensure a dry and bug-free interior. For peace of mind, all fabrics are fire-retardant.
Pros
One person can put up an easily
Sturdy lightweight construction
Dark technology does not allow sunlight to pass through the tent.
Sturdy enough to withstand tropical winds and rains
Cons
Center height is not tall enough with only 4 feet 11 inches
Does not come with footprint
REI Co-op Grand Hut 4 Tent
The next tent on our list is REI Co-op Grand Hut 4 Tent. This tent is one of the best tents from the REI Co-op brand. This tent is large and spacious enough to accommodate up to 4 people easily. One of the top features of this tent is that it has nearly vertical walls, which gives you uniform and ample space all around the floor. The tent has a peak height of 6 feet and 25 inches and a floor area of 59.7 square feet.
The tent has two large D-shaped doors for easy exit and entry. This tent also provides excellent ventilation and view through its bug-proof mesh panels. This tent comes with a waterproof fly that offers excellent weather protection and additional space to put off shoes and gears upon attaching. You can connect the trap over the tent with buckles for an easy and secure setup.
The tent has multiple storage pockets for storing items and a loop for hanging lanterns at night. The tent comes with eight stakes and six guylines to pitch the tent on the ground. For more stability, I advise you to purchase additional stakes and guylines to make the tent stand during heavy winds. Overall this tent is one of the best four-person tents and worth investing money if you want a tent to live long for multiple camping trips.
Pros
Large vertical walls give large spacious area
Bathtub style floor
Easy to setup and takes only 10 minutes to set it up
Rainfly over the tent gives more protection and additional vestibules area
Cons
Need additional stakes and guy lines to pitch the tent firmly
Footprint not included need to purchase separately
Eureka Copper Canyon LX 4-Person Tent
The Eureka Copper Canyon 4-person tent is the roomiest in the Copper Canyon collection of tents from Eureka. This is because the tent's complete standing height design allows you to move around with more ease. The roomy interior provides more space for sleeping, storing gear, playing cards, and hanging out with the whole crew.
The tent has only one d-shaped door at the front for easy entry and exit. Due to nearly vertical walls, the tent provides a huge space inside the tent. The floor has a bathtub style with an area of 64 square feet. The tent has a peak height of seven feet which means that the tallest person in your group can easily move around inside the tent.
This copper canyon tent offers many features to make your camping trip enjoyable and entertaining. The tent has an e-power port to run an extension cord inside for charging your smart devices, laptops, etc. This tent has a lot of stash pockets and two gear lofts to keep your items organized. The tent has four large mesh windows with curtains to provide you with more excellent ventilation and a beautiful view of the outside. Put the curtains on when raining to prevent rainwater from sprinkling inside the tent.
Lastly, this tent from Eureka is the best choice if you are looking for a budget-friendly 4-person tent with many features.
Pros
Easy to setup, roomy inside due to vertical walls
Great peak center height of seven feets
Setup takes only 10 minutes
Best budget 4 person tent for small families
Cons
Not withstand in heavy storm
The strings inside the pole are skimpy
Kelty Wireless Tent
Kelty wireless 4 is a four-person tent designed to offer a group of campers reliable weather protection, a lot of interior space, and easy setup at a budget-friendly price. This tent is extremely affordable for beginners campers and super easy and fast to pitch up. It means you don't have to spend much time getting frustrated while pitching a tent.
Three wrapped fiberglass poles give the freestanding tent stability. The color-coded components and pockets at each tent corner keep one end of the pole secure while you move around to insert the other end. The 4 person variant of Kelty wireless has a lot of space inside to accommodate four people comfortably.
The tent has two doors to provide easy access and exit. Each door has a vestibule providing external storage space for backpacks and muddy shoes. Durable polyester floor and rainfly offer protection from wet weather. Fully taped seams prevent water from sneaking in. Mesh on the body of the tent provides excellent ventilation. The tent has multiple storage pockets to store and organize your items.
This tent has special night light pockets that turn the headlamp's beam into diffuse ambient lighting for reading at night. The tent footprint keeps your tent protected from the insult of sharp rocks, roots, and pine needles.
Overall, Kelty Wireless 4 person tent is the best choice for people with a tight budget.
Pros
Easy to setup, and very spacious
Great contruction and design
Great ventilation system
Provide great protection from high windy rain
Cons
The floor is of thin material
Zippers tent to stuck around the cornor
REI Co-op Base Camp 4 Tent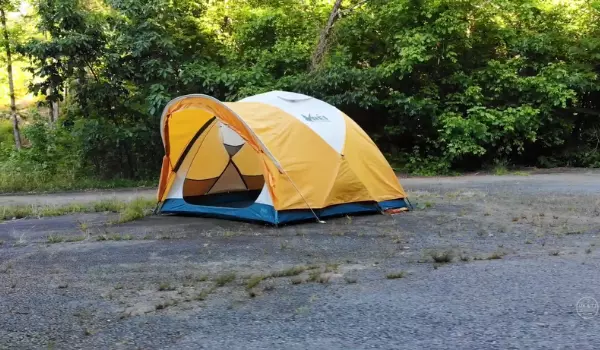 The tent has a typical X-frame structure that starts from the bottom and crosses at the top in the middle. The tent poles and the rainfly clips have a color-coded system to make the setup easy and quick within less than five minutes. This tent has two large doors. One entrance has a large vestibule that offers protection from rain and bud getting inside the tent. The vestibule can be closed and used as a private changing room.
This tent comes with many tie-downs at each pole and on the sides of the tent. Each one has its reflector to see at night easily, which comes very handy. This tent also has guylines if you can't drive the stakes in the ground, and you need to extend it a little bit.
The tent has a peak center height of 5 feet, which is not the tallest, but the dome style is pretty decent. The tent has two large mesh windows above the doors (screened doors) to provide you with great ventilation inside the tent. Another great feature is that this tent has a lot of gear storage options available inside the tent. It has pockets at each corner and the top as well. Beside screened doors, there are plenty of vents with two vents at the top and one low side vent. So ventilation is not an issue in this tent.
Pros
This tent is spacious enough to accommodate 2 adults with 2 kids
Provides great ventilation through multiple vents and screened windows
The tent is easy to set up with color-coded poles
The tent is sturdy and well built to withstand heavy winds
Cons
The stitching is not of high quality
On the expensive side
Coleman 4-Person Pop-Up Tent
The Coleman Galliano 4 person pop-up tent is the best partner for festivals, multi-stop holidays, and weekend trips, offering instant comfort and convenience on the campsite. Due to the fastpitch pop-up structure, this tent pitched in less than one minute. The Galliano fiberglass poles' structure pops into shape once removed from its carry bag and elastic strap.
Sturdy fiberglass poles combined with a stable tunnel construction ensure that the tent is strong in all weathers. Heavy rain is not mattered for the polyester flysheet, which boasts a hydrostatic head of 2000 millimeters. The seams are also taped to keep you dry. The tent fabric is also fire retardant, which will not fire.
The Coleman 4 person pop-up tent features a removable roof panel providing multiple ventilation options from open sides to a fully open roof for maximum airflow inside the tent. The tent's double-layer floor also adds ventilation when required while mesh keeps the bugs outside. The tent also has storage pockets to keep small items stored and organized in one place.
The Coleman Galliano 4 person pop-up tent is the best option for the festival and short-term camping goals.
Pros
Easy pop up instant setup within few seconds
Lightweight ideal for backpacking
Provide protection from mild rain and wind
Best option for short term camping in cheaper price
Cons
Not durable enough and low built quality
Only best for summer non rainy season camping

Mountain Hardwear Trango 4 Tent
Mountain Hardwear Trango 4 Tent is designed for base camp on the mountain; it's a full four-season tent design. They are primarily designed for an extremely strong base camp tent.
The Trango 4 person tent canopy is a freestanding design and attached to the pole structure with gated clips with every single clip point. One of the exciting features of this tent is that it has an asymmetrical design, meaning you can have a large vestibule in front of the tent. Meaning if the wind changes its direction, you can take the fly off, flip it around, and have your large vestibule on the rear side.
On the side of the tent has a large ceiling vent that you can unzip to allow airflow from the top of the tent. The front of the tent has a large d-shaped door with dual sliders allowing you to partially open up the doors and vent the top if you need. It has a full canopy door and a full mesh door when the door is fully opened.
The tent is extremely spacious inside, with a peak height of 50 inches and an area of 57 sq ft. You can place three large wide mats next to each other to accommodate up to 4 people easily. Inside, the tent has multiple pockets to store small items like wallets, keys, torches, cell phones to keep them in one place.
Pros
Extremely durable high built quality tent
It is a 4 season tent
Waterproof rating of 10000mm
Mesh windows and vents provide great ventialtion
Cons
Most expensive tent only for long term camping and professionals
Alps Lynx 4 person tent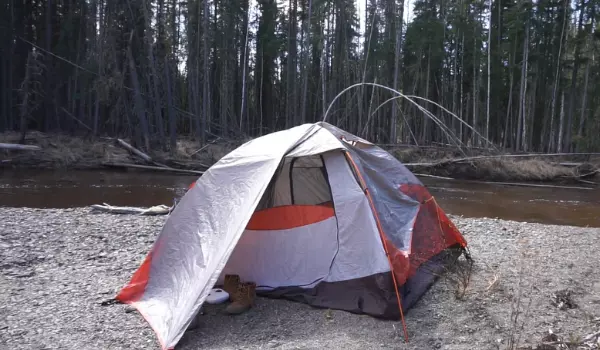 Alps Lynx 4 person tent is a great choice for backpacking camping. This tent weighs around 8lbs little more than normal backpacking tents but keeping in view that it's a four-person tent, it's an ideal weight. This tent has a freestanding design built with high-quality aluminum poles of 7000 series. The tent setup is made super easy with detachable clips over the poles.
Its fabric is also of premium quality, made from 75 deniers 185T polyester. The tent fly is also of the same material and has a 1500mm UV resistant coating to prevent UV rays damage. The tent floor is made from 75D 185T poly taffeta material with a 2000mm waterproof coating. This tent is spacious inside, having 64 ft² of floor area. The tent has two large doors and a large vestibule, each having 25 ft² of area.
The lynx 4 person tent has a great ventilation system due to its half mesh walls allowing continuous airflow inside the tent. It provides multiple storage options with mesh side mesh pockets and overhead gear loft to keep your items safe and stored in one place.
Pros
Great 4 person backpacking tent
Half mesh walls provide great ventilation
Two large doors and vestibules
1500mm UV coated rainfly and 2000mm rating polyester floor
Cons
Not tall enough with peak height of 52 inches
Little heavier than ultralight backpacking tent
NEMO Wagontop Camping Tent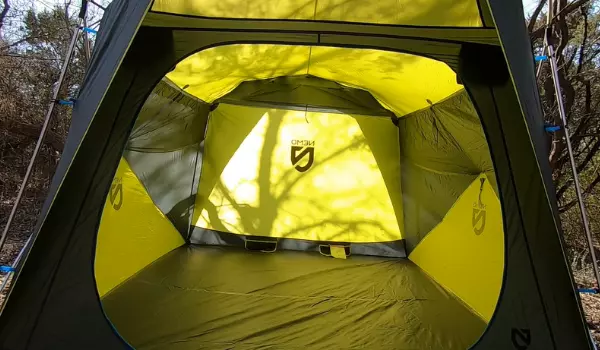 The Wagontop 4-person camping tent from Nemo equipment has a unique pole structure and provides more standing height and liveable space than the other four-person camping tents. The nearly 70 square feet floor makes for an awesome interior facing loads of room to stand or stretch out legs. Large screened windows provide great ventilation while fully maintaining your privacy.
Single wall construction uses tapped seams and thoughtful details to spare you fly hassle. The front vestibule removes in under a minute to free up the front entry when it's sunny and clear. There is no need to crouch when entering with wagon stop walk-in entrance. Standing height ceiling throughout the tent gives you easy moveability.
Setting up this tent is quite easy and can be done by one person due to the unique pole structure. When ready to go back, you can take down the tent and pack it down in the wagon top duffel bag to carry.
Pros
Easy to set up takes only 10 mins to set it up
Comfortable and roomy enough to accommodate 4 person
With a peak height of 80 inches, a person with 6.5 feet height can easily move around without ducking
Two large windows for easy exit and entry
Cons
Not great ventilation system
Not sturdy enough to withstand heavy winds
what to look for when buying a 4 person tent
When buying a 4 person tent for family or group camping, many factors need to be considered. We will discuss each of these factors in detail to help you decide which tent to choose, considering all these factors.
Size (Space and height)
Easy of setup
Weight of Tent
Weather and Wind Protection
Additional features
Size
The main point while buying any tent is the size of the tent. Most tents labeled as 4 persons are not ideally fit 4 persons. Most 4 person tents are ideal for a family with 2 adults and 2 kids. If you are camping with 4 adults, you have to consider the livability of all the members residing inside the main tent.
Many tents in this list can easily accommodate up to 4 persons as they provide more floor area and space. But if you feel that you would feel uncomfortable and cramped with all the members residing inside one tent, then you should consider buying 6 person tent for more space.
Another aspect under the size is the tent's height as most of the 4 person tents are dome-style. They offer less peak height if you have any member above 6 feet or so. Then it would be best if you considered buying a tent with a peak height above 6 feet, such as the NEMO Wagontop tent.
Otherwise, you can choose a cabin tent with straight vertical walls and a bathtub-style floor that offer more height and uniformity throughout the tent. So the tallest person in your tent can move around easily. Cabin tents are heavier and bulkier than 4 person tents and only suitable for car camping.
Ease of setup and take down
Setting up a tent is a very hectic and time-consuming task, especially if you are a beginner. So when choosing a tent, you should consider the factor of ease of setup. 4 person tent comes with color-coded poles, making the setup easy and quick. Also, some 4 person tents come with pre-attached poles, so you only need to unwrap the tent and stretch the tent poles to their length.
Also, tent manufacturers have a tutorial video on their youtube channels showing you a practical demonstration of setting up the tent. You can practice setting up the tent by watching the video at your home or backyard a couple of times before taking it to the campsite.
Most of the tents mentioned in the list can easily be set up within 10 minutes after some practice. Except for a few ones like REI kingdom, it is tricky to set up due to its structure. In contrast, the Coleman cabin tent is the easiest and quickest tent to pitch due to its pre-attached poles.
Weight of the tent
The tent's weight is a crucial factor to consider for backpacking camping. If you are going backpacking, you must choose a lightweight tent so you can easily move around while having it on your back and hike easily. For car campers, weight does not matter. The thing matter for them is the quality and space of the tent. The higher the quality, the heavier the tent and the space.
The factors that add weight to the tent are;
The tents mentioned in our list have both backpacking and car camping. You can choose any tent for car camping, but for backpacking Kelty Wireless or Coleman Giallano tent, these two tents are lightweight and suited for backpacking.
Weather Resistance
Your tent is your home from home away, and it should protect you from harsh weather conditions like rain and storm. A quality tent must possess a high-quality waterproofness wind resistance feature.
The tent should have at least a HH waterproof rating of 5000 mm. The tent floor must be seam-sealed with a hydrostatic rating of 2000mm waterproof coating.
The rainfly also needs to be waterproof along with the canopy and floor. All these work combined to make the tent waterproof and provide great weather protection against stormy weather and rain. It would help if you considered the condition of your campsite and how often it rains there to help you decide the maximum waterproof rating you need.
Additional Features
All the tents have additional storage pockets, lantern hanging clip, vestibule, and porch to enhance your camping experience. Nealy, all the tents have storage pockets, which is a very common feature. The most important feature you need if you are paying more is looking for an additional storage area in vestibules.
Vestibule allows you to store your camping equipment like backpacks, shoes, cooking stoves outside the main area under the trap. Not all tents provide this feature, and only a few high-paying tents have this feature.
Other features include multiple mesh doors, windows, and vents for better ventilation and easy exit and entry into the tent. These additional features can enhance your camping experience by the great mile and make you feel awesome in the wilderness.
Conclusion
The REI Kingdom 4 tent is our top pick for the best 4 person tent. This tent is sure to keep you and your friends happy. It has vertical walls which allow for easy movement inside the tent. This tent is also ideal for those who might be taller. The only negative is the weight, but if you're going to be carting it around, you might as well take the weight.